I have another giveaway coming up!

It's awesome, with a side order of cool. Really. If you're charmed by rich, imaginative stories I think you'll love this very unique giveaway.
But after a very long, very trying day at work, I just didn't have it in me to create the document.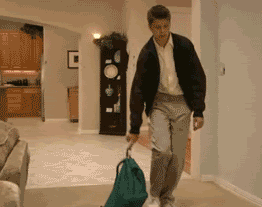 This was me when I got home from work. Except I'm a girl. And I carry a purse instead of a backpack, and have nicer shoes.
I'll post it by Saturday so stay tuned. By the way, did you see the movie 500 Days of Summer with Zooey Deschanel and Joseph Gordon-Levitt?? It's what the "Oh Yeah" gif is from at the top of this post. It's fun, a bit quirky and different with its presentation, but that's me.
We'll talk soon!
Be well, and happy reading.