I'm participating in Top Ten Tuesday hosted by
The Broke and the Bookish
because I
lurve
lists. Lists make me feel happy and focused! So here goes, and not in any particular order:
My Top Ten Books to Reread
10. Lips Touch Three Times by Laini Taylor
I know, I know. You're probably thinking I've gone all
Laini Braini,
but I love this book. I've reread it several times already, but it's always magical. The characters are like old friends, and the the stories fly. It's the perfect book to help me decompress after a long, difficult day at work. It's immediately engaging.
9. Faithful Place by Tana French
This is just an awesome mystery/suspense story with a unique plot. The main character hangs around in your head for days. Knowing the ending won't spoil rereading this story; it's so well written that the story is the point, not the ending.
8. The Gargoyle by Andrew Davidson
There's a helluva lot going on in this book; I couldn't read it fast enough. It's a story about stories and I'm sure I missed details, tiny enriching nuances. I just gave it to a friend, and we're going to read it together. She teaches high school english and literature so I'm sure she'll be all....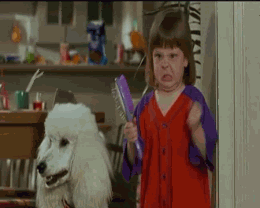 Shame on you, stupid face! How could you not get this?
And I'll be all...
Shut up, book wench!
7. The Stand by Stephen King
Just because.
6. The Outsiders by S.E. Hinton
I read this in the seventh grade before I realized it was required reading in high school. I remember only two things: I loved it, and a character stares at the tip of his cigarette glowing red thinking....what? What is he thinking? I can't remember.
5. Go Ask Alice
Another one I read long before I knew it was required reading. Don't remember it, and I should.
4. Salems Lot by Stephen King
Vampires done right.
3. Chime by Franny Billingsly
I didn't love this book right away, so I'd like to read this book again and experience all the things I missed because I was confuzzled. I did start to love it half way through.
I laughed til I cried, and that's just fun.
1. Allegorical, metaphorical and any other kind of --orical you can think of. I'd really like to pick this one apart.