Hardcover: 400 pages
Publisher: Doubleday
First Edition/First Printing edition September 13, 2011
The circus arrives without warning. No announcements precede it. It is simply there, when yesterday it was not. Within the black-and-white striped canvas tents is an utterly unique experience full of breathtaking amazements. It is called Le Cirque des Rêves, and it is only open at night.






But behind the scenes, a fierce competition is underway—a duel between two young magicians, Celia and Marco, who have been trained since childhood expressly for this purpose by their mercurial instructors. Unbeknownst to them, this is a game in which only one can be left standing, and the circus is but the stage for a remarkable battle of imagination and will. Despite themselves, however, Celia and Marco tumble headfirst into love—a deep, magical love that makes the lights flicker and the room grow warm whenever they so much as brush hands.






True love or not, the game must play out, and the fates of everyone involved, from the cast of extraordinary circus per­formers to the patrons, hang in the balance, suspended as precariously as the daring acrobats overhead.




I put down Harry Potter and the Order of the Phoenix to read The Night Circus by Erin Morgenstern right away. Having both books in the forefront of my mind, the only comparison I can draw is they are both written in third person, and there's magic. Oh, and a train. So if you think you're getting a dose of dueling wizards battling it out to the death in the name of good against evil with bolts of electricity flaring from wands, you'll be sorely disappointed. The press is drawing the comparison for publicity and money. Let's all just admit there will never be another Harry Potter, and move on to embrace the new.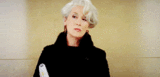 That's you, publishers and media!
Erin Morgentstern's The Night Circus is not the traditional circus you know. It's a beautifully imagined, intricately detailed, magical place that enchants all who enter. The circus is as much a character in the story--if not more so--than all the other characters combined. I never use to understand people saying they wished they could live in a certain favorite fictional world. Until now. I would SO run away with this circus, easily donning black with a splash of scarlet to become a reveur, giving up my predictable life to follow the Night Circus to all its exotic and romantic locales: Constantinople, London, Munich, Sydney, Paris, to name a few. Morgenstern was sure to involve all the senses when describing the circus. It's such a disappointment that it isn't real.
Two rival magicians--Prospero the Enchanter and a man known only as Mr A. H-- decide to throw down and have a contest to see who can produce the better student of magic. Chosen as children, Celia and Marco are kept separated, training their whole lives for the competition, but the rules are never explained.
One sorta major detail left out in their education is only one can survive. (The Night Circus is as similar to The Hunger Games as fried chicken is to beignets. Just saying.) The circus venue is announced and the competition begins, although no one knows anything about it save student and mentor.
There are cloud mazes in the air, a wishing tree, forests of sonnets. Practically everything is controlled by magic, but the beauty of it is it's real magic disguised to look believable. A person's grip on reality can be a fragile thing; it's best to leave others alone in their safe perceptions. Years pass as Celia and Marco keeping adding more and more magical entertainment, learning to respect and care for each others talent long before they meet. Once they do meet, their romance is slow to grow as both are aware it would complicate things if they collaborated on projects.
I enjoyed how Morgenstern occasionally used the very rare second person POV, putting readers directly into the story, experiencing the circus for themselves:
"You feel the warmth of breath on your neck, but when you turn no one is there."
Harry Potter feels like a wild, epic adventure whereas, to me, The Night Circus and its cast of characters is a controlled execution, proper and refined, just how the Victorians are often portrayed, and this absolutely fits the story.
"The silence that falls between them is a comfortable one. He longs to reach over and touch her, but he resists, fearful of destroying the delicate camaraderie they are building."
(Click below to read more)
Erin Morgenstern has a wild imagination, and I love her attention to detail. An example of her creativity:
This woman's skin is shimmering and pale, her long black hair is tied with dozens of silver ribbons that fall over her shoulders. Her gown is white, covered in what to Bailey looks like looping black embroidery, but as he walks closer he sees that the black marks are actually words written across the fabric. When he is near enough to read parts of the gown, he realizes that they are love letters, inscribed in handwritten text. Words of desire and longing wrapping around her waist, flowing down the train of her gown as it spills over the platform.
The statue herself is still, but her hand is held out, and only then does Bailey notice the young woman with a red scarf standing in front of her, offering the love letter-clad statue a single crimson rose.
The movement is so subtle that it is almost undetectable, but slowly, very, very slowly, the statue reaches to accept the rose. Her fingers open, and the young woman with the rose waits patiently as the statue gradually closes her hand around the stem, releasing it only when it is secure.
And then the young woman bows to the statue, and walks off into the crowd.
Although I enjoyed Celia and Marco, my favorite character was Bailey (besides the circus itself). He was the only one that had any real palpable tension from the instant he's introduced.
I kept waiting for the tension to build between Celia and Marco, but even they confess that the circus competition feels like an exhibition. Curious things happen--and wonderfully unique things-- but rather than being hooked, I was merely nibbling at the bait. It is not until more than halfway through the book that Celia and Marco realize the consequences of losing, and this ratchets up the emotion, the tension, the suspense. The reader becomes vested.
Having said that, Erin Morgenstern has still written an exquisite novel that will be treasured as creative genius. Imagining her actually making tiny models of the circus and other things--she's an artist after
all--only contributes to the magic.
"With a first printing of 150,000 copies, and rights sold in 30 countries, expectations are high for this first-time novel. Morgenstern says she didn't plan the book as a series, but enough questions dangle at the end to set the stage for a sequel."
Through a short tweet session with Erin Morgenstern, she said she's not sure what they mean by "dangling questions" and said perhaps publishers are interested in tangential tales.
This book is lovely as a stand alone. I'm not doubting that Morgenstern can pull off lavish tangential tales, but this book resonates as it is, and sometimes it's best just best to say, "That was a damn good story."
He sits back in his chair and steadily returns the stare aimed at him. Taking his time as though he has all of it in the world, in the universe, from the days when tales meant more than they do now, but perhaps less than they will someday, he draws a breath that releases the tangled knot of words in his heart, and they fall from his lips effortlessly.